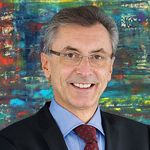 Strabag Romania, the local construction market leader, recorded a turnover increase of 33% in the first six months of the year, reaching 93.8 million euro, while the order backlog of the company has reached 495 million euro. In the first semester, Strabag contracted A3 motorway construction works (10.1 km) between Ungheni and Ogra. The project is worth 70 million euro. However, Strabag builds the structure of the biggest orthodox cathedral in Romania - Catedrala Mântuirii Neamului, as well as the railroad Vinţu de Jos - Simeria. At the end of June 2015, the construction company employed 1,254 workers in Romania, their number being down by 5% compared to mid 2014.
Interview with Thomas Birtel (41 years old), CEO of Strabag SE.
- Please review the financial evolution of the company in 2015.
- The statistics show that the construction industry registered an increase of 18% in February 2015 over the same period in 2014, confirming the growth trend. In January-March, the construction volume increased by 15% compared to 2014, adjusted to the number of working days and seasonality. With only 8.9 billion euro in 2014, the construction industry in Romania had reached its seven-year-low. Strabag registered this development in its own numbers: the volume of our order backlog had already grown significantly in 2014 by 62%, to about 500 million euro. This level was sustained also in 2015. The output volume grew from 71 million euro after six months in 2014 to 94 million euro in the first half of 2015. The construction industry in the infrastructure sector is highly influenced by the public clients and the availability of funds. ...