English Section
Publicat de Ovidiu Stefanescu
24 Feb 2016 11:02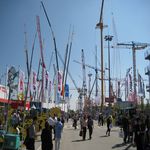 The international trade fairs in the construction sector are still the main platforms for promoting innovations, such occasions being used traditionally for suppliers to launch their new products/services, strengthen business relations with partners, establish new collaborations, get valuable information about the outlook for the market's etc. One of the major events which are held every three years is represented by the exhibition of machinery and equipment for construction Bauma, held in Munich exhibition center - Germany. This year, the event will take place between 11'th and 17'th of April and offers the opportunity to meet again the professionals from the entire construction industry. Since the end of last year, organizers announced full employment of available space, the 2016 event taking place on the whole area of 605,000 sqm of the Bavarian complex. One of the major points of attraction in the current edition will consist of innovations in transmission, applicable to the wheel loaders. With the entry into force of the European directive on emissions of exhaust gases, the industry began to focus on three major issues - namely limiting toxicity of the gases emitted by modern engines, reduce fuel consumption and increase energy efficiency.
At Bauma 2016 one of the nominations for prizes refers at the first full-electric wheel loader with all-wheel steering produced by Kramer-Werke GmbH. The product have a load capacity of nearly two tons, and the equipment operates with virtually no toxic emissions, making it ideal for operation indoors, tunnels, underground garages etc. Thanks to special battery capacity, the overall performance of the machine is not damaged during operation, and operating/service costs are reduced.
Another nomination for innovation is aimed to the first plate compactors operate autonomously, promoted by the company Ammann. The prototype of this revolutionary product will be presented for the first time at the German fair, offering to the professionals the opportunity to test a technology of the future. A major improvement is to ensure optimal ergonomic conditions for operators, which are currently subject of major stress factors such as strong vibrations and exhaust gases.