Prezentare companie/institutie
WILO Romania: Noi perspective de dezvoltare, la aniversarea de 25 de ani

Mariana Corlaci, Marketing Manager Wilo SE Platform

Mihai Cojocaru, Production Manager Wilo Romania
Furnizorul de pompe si sisteme de pompare a apei Wilo Romania, companie cu o experienta de 25 de ani pe piata locala, traverseaza o perioada favorabila a activitatii, obiectivele pentru anul 2023 incluzand majorarea vanzarilor, dar si extinderea echipei locale. De asemenea, compania va continua sa se implice in dezvoltarea de proiecte de amploare, cu impact pozitiv in Romania si regiune, dar si sa dezvolte, local, solutii noi pentru managementul apei curate, pe care sa le comercializeze atat pe plan intern, cat si la nivel regional. Un alt obiectiv al Wilo Romania este reprezentat de dublarea capacitatii de productie, targetul fiind sa ajunga la un numar de 1.000 de grupuri de pompare pe an si peste 4.000 de unitati de pompe submersibile si hidrofoare.
Wilo Romania face parte din grupul german Wilo SE, cu o experienta de peste 150 de ani pe piata instalatiilor de apa, ce realizeaza venituri anuale de peste 1,5 miliarde euro, potrivit datelor din 2022, fiind lider global in acest domeniu de activitate. Compania are reprezentante in mai mult de 60 de tari si peste 6.700 de angajati.
- Cum vedeti evolutia activitatii companiei, in 2023?
- 2023 este un an deosebit pentru Wilo Romania. Aniversarea de 25 de ani de cand suntem un furnizor excelent de solutii pentru proiecte inteligente si eficiente in protejarea resurselor de apa, in tara noastra, constituie un punct de referinta important si contribuie la planul de actiune al Wilo de a-si consolida pozitia de lider in tehnologie care pune accentul pe sustenabilitate, inovatie si eficienta. Ne asteptam ca in 2023, ca urmare a investitiilor noastre, sa crestem atat vanzarile, cat si echipa. Wilo investeste in resursa de personal din Romania si in dezvoltarea pietei de aici, ca punct strategic pe harta operatiunilor globale ale Grupului.
- Care este gradul de implicare a companiei in proiectele de extindere si reabilitare a retelelor nationale de alimentare cu apa?
- Wilo Romania furnizeaza solutii complete pentru aplicatii municipale, atat pentru retelele de alimentare cu apa, cat si pentru cele de apa pluviala si canalizare. Acoperim intreaga gama de aplicatii (tratare, transport, irigatii), cat si cea de servicii (suport proiectare, suport tehnic, punere in functiune, mentenanta cu extinderea garantiei comerciale, mentenanta preventiva). Suntem parteneri in proiecte de diverse complexitati, unele dintre acestea reprezentand provocari unice. Un astfel de proiect este sistemul de canalizare sub presiune cu automatizare Nexos Intelligence in Feleacu, judetul Cluj. Este o alternativa mai simpla, mai rapida, mai ieftina de instalat si de exploatat, la sistemul de canalizare conventional, gravitational. Am folosit statii individuale cu pompe imersate, independente de configuratia terenului, avand ca rezultat eficienta economica, siguranta in functionare si compatibilitate cu mediul inconjurator. Si nu ne oprim aici. Dintre cele mai recente proiecte, amintim finalizarea reparatiei a doua pompe de mari dimensiuni care asigura distributia agentului termic in Tulcea si prelungirea duratei de functionare a echipamentelor date in folosinta inca din 2011 cu ajutorul pieselor originale Wilo, si livrarea, asistenta tehnica, punerea in functiune a echipamentelor Wilo pentru stingerea incendiilor, pentru alimentarea cu apa si pentru instalatia HVAC la Sala Polivalenta din Oradea.
- Care sunt marcile/tipul de sisteme de pompare comercializate si ponderea acestora in totalul vanzarilor?
- Acoperim intregul circuit al apei printr-o gama variata de produse, de la pompe de apa curata si pompe de apa reziduala (apa murdara, menajera, industriala), la pompe de suprafata, centrifuge, verticale si orizontale, pompe submersibile, pompe de put, pompe de drenaj, pompe de recirculare, precum si pompe de incendiu, concomitent cu servicii de consultanta gratuita, instalare, reparatii si intretinere pentru orice tip de pompa si sistem de pompare Wilo.
Este important de stiut ca produsele Wilo respecta toate standardele europene, locale, dar si ale Grupului Wilo, fiind conforme atat cu Directiva de Masini 2006/42EC, Directiva pentru Compatibilitate Electromagnetica 2014/30/EU, cat si cu alte standarde armonizate.
- Ce obiective de dezvoltare aveti stabilite pentru piata din Romania, dar si la nivel regional?
- Pentru urmatoarea perioada, ne dorim sa mentinem trendul de implicare in proiecte de amploare, cu impact pozitiv in Romania si regiune. Ne propunem sa ne alaturam noilor proiecte cu solutiile moderne Wilo de stingere a incendiilor si sisteme inteligente de incalzire, ventilatie si aer conditionat, precum si cu solutii de management al apei. In plus, vom dezvolta local solutii noi pentru managementul apei curate, pe care sa le comercializam atat pe piata locala, cat si pe cea regionala. In acest sens, in ultimii doi ani am pus un accent mai mare pe activitatea de productie si asamblare locala. Realizam deja asamblare in Romania pentru grupuri de ridicare presiune pentru sisteme de alimentare cu apa, grupuri de ridicare presiune hidranti interiori in conformitate cu Normativul P118/2, precum si pentru pompe submersibile si hidrofoare. Totodata, obiectivul nostru este sa ne dublam capacitatea de productie si sa ajungem la un numar de 1.000 de grupuri de pompare pe an si peste 4.000 de unitati de pompe submersibile si hidrofoare.
Productia si asamblarea locala din tara noastra sunt esentiale pentru dezvoltarea regionala a Grupului Wilo, mai ales ca vorbim despre o multitudine de produse pentru apa rece si apa potabila care vor pleca din Romania catre tari importante din spatiul sud-est european. Acest lucru implica un aflux de capital economic si uman pentru dezvoltarea operatiunilor noastre, precum si consolidarea rolului pe care Romania il are in regiune si in cadrul Grupului Wilo.
- Care sunt provocarile din domeniu, in acest moment, in ceea ce priveste accesul la sursele de apa si protectia mediului?
- Infrastructura apei joaca un rol cheie in toate domeniile, iar Wilo este cunoscut ca un pionier in domeniul tehnologiei pompelor de inalta eficienta intr-o gama larga de domenii de utilizare. In plus, Wilo se numara printre liderii mondiali ai protectiei mediului selectati in baza celor 17 principii de sustenabilitate ale Natiunilor Unite, pentru proiectul "50 Sustainability & Climate Leaders". Ca parte a strategiei sale pe termen lung, Wilo a definit 5 megatrenduri globale care vor avea impact imediat asupra vietii oamenilor in deceniul urmator si care sunt esentiale pentru modelul de business al companiei: urbanizarea, lipsa resurselor de apa, globalizarea, schimbarile climatice, criza de energie. Acestea sunt dublate de transformarea digitala, care este un element cheie pentru toate cele 5 megatrenduri.
In intreaga lume au loc schimbari fundamentale. Gospodariile private, industria si agricultura necesita din ce in ce mai multa apa dulce. Mai mult, semnalam existenta unor provocari majore in ceea ce priveste managementul cladirilor moderne: pe de o parte, numarul cladirilor extrem de automatizate este in crestere si, odata cu acesta, se inmultesc si solutiile pentru furnizarea, utilizarea si evacuarea apei; pe de alta parte, obiectivele statelor privind schimbarile climatice si deficitul de forta de munca specializata impun cerinte din ce in ce mai mari in designul echipamentelor tehnice pentru cladiri. Toate aceste evolutii creeaza un potential enorm pentru Wilo, o companie care vede procesele de schimbare globala ca pe o oportunitate de a transforma lumea in bine si de a face viata oamenilor mai usoara.
(articol aparut in revista Agenda Constructiilor, editia Martie/Aprilie 2023)
---
The geoeconomic turning point: 30 years of hyperglobalization are over!

Oliver Hermes is President & CEO of the Wilo Group, Chairman of the Board of Trustees of the Wilo-Foundation, member of the Board of Trustees of the Family Business Foundation and member of the Executive Committee of the Near and Middle East Association (NUMOV). He is an essayist with articles published in independent media. The opinions expressed are those of the author only. In the following essay, the expert describes the challenges posed by the current global crises and politically intended decoupling processes. According to the author, German companies in particular are facing difficult times. He also takes a clear stand by stating that 30 years of hyper globalization are certainly over. Instead, the specter of decoupling is now haunting all continents. In the process, companies are increasingly trapped between the increasingly polarized positions. Especially those that are integrated into globally operating value chains have a lot to lose. The President and CEO of the Wilo Group expresses his concern about the increasing globalization skepticism among the general population.
"Decoupling means that multinational co-operations will weaken"
When politicians speak of a "turning point" these days, they usually mean a geopolitical or historical turning point marked by Russia's invasion of Ukraine on 24 February 2022. There was more than enough tension in the world before that date. However, we never imagined that a conflict would escalate to the level it has in Ukraine. The violence and suffering that people are facing in the middle of Europe and other parts of the world is devastating and deserves all of our sympathy and help. Difficult times challenge those certainties thought to be secure. We are living in a period characterized by secession, self-sufficiency, protectionism and growing international tensions, to the point of war. As a consequence of the geopolitical turning point, we are also witnessing a "geoeconomic turning point". In many respects, this development can also be described as a "backward roll". The backpedaling on energy transitions, the inflation turnaround in mature markets, the subsequent monetary policy interest rate turnaround by central banks, and the associated real estate turnaround are the result of the actions of political actors worldwide.
In terms of foreign trade, the following remains to be said: 30 years of hyper globalization are certainly over. Instead, the horror of "decoupling" is now wreaking havoc on every continent. In all its forms, decoupling means that multinational co-operations will weaken, alliances will crumble and economic bridges between states (and therefore between politically diverse systems) will topple. Trade barriers, extra-territorial sanctions, technology embargoes and a decoupling of supply chains initiated for political reasons often have clearly underestimated negative consequences for the global economy. "Decoupling" is no invention of the economy, mind you, but the primacy of politics also applies to companies. Decoupling markets is therefore politically intended to protect critical infrastructure in individual regions, guarantee territorial sovereignty and secure prosperity. It is often forgotten in the political sphere that there is not and can never be an "end-to-end" independence of economies with complex systems. Especially when it comes to the supply of raw materials, import substitution has its limits in mature markets and regions. We simply cannot do everything nationally or regionally ourselves. Multilateral structures and processes are and remain to be essential for efficient and sensible economic and social action on this earth.
Rampant decoupling has at least four manifestations
Firstly, the geographical dimension describes the respective regional effects of isolation and decoupling. Secondly, the technological dimension comprises the phenomenon by which various markets apply their own standards for products, systems, and solutions. The third dimension represents financial decoupling, reducing dependence on global financial and capital markets, currency and payment systems. The fourth dimension represents the global impact of decoupling on the supply of natural resources to people. All four dimensions interact with each other.
An increasing number of companies are caught in the middle of geopolitical disputes. The power struggle between the US and China is the central geostrategic conflict of today. The states in between, the so-called "sandwich states" in Europe and the Pacific region, must re-evaluate their opportunities and risks in this field of tension. This also applies to the economic actors. If you consider the trade volumes of the individual world regions relative to each other, published by the United Nations Conference on Trade and Development (Unctad) in February 2022, you will see that all continents are very closely intertwined economically.
For example, Ukraine and Russia combined account for about 30% of all global wheat exports. Disruption, blockage or disconnection between these global trade linkages will lead to food crises and famine in many parts of the world. Similar dependencies exist between global communities and Taiwan. Taiwan's semiconductor industry is globally classified as systemically important. About 77% of the chips produced worldwide come from here. An escalation of the Taiwan conflict could have dramatic repercussions and would ultimately destabilize the already fragile global economy.
The disentanglement of global trade patterns would lead to enormous efficiency losses …
… and consequently, to a loss of prosperity. Many people are not aware of this possibility. For example, according to a survey by the Civey Institute in 2022, only 35% of the German population still consider globalization to be an opportunity. 61% see globalization more as a threat. In 2017, the result of the survey was exactly the opposite. At that time, globalization had a positive connotation for around 60% of respondents and only 40 percent saw it as a risk. This change in attitude is an extremely worrying development, but it is part of the geoeconomic turning point. It is often overlooked that the business model of the EU, especially that of the Federal Republic of Germany and therefore our jobs and our prosperity, is based on globalization and multilateralism. Deglobalization and decoupling may make regions and countries a little more sovereign and independent of other states, but they will also become more inefficient in many areas, as well as more expensive to operate economically. Citizens will have to pay the higher consumer prices for this, with the accompanying loss of prosperity and all the social risks that arise. On the corporate side, those players who are integrated into globally functioning value chains have the most to lose.
They need to reorganize now
It is clearly foreseeable that supply chains, already fragile and strained by the pandemic, will be further disrupted by decoupling. One way out of the dilemma posed by geographic decoupling is for companies to invest regionally. To this end, globally operating companies need to re-examine strategic alternatives for action in the most important markets. The question to be answered is, which current position and future prospects does an individual region or country differentiated according to procurement and sales markets have for a company? With regard to decoupling countries, in which globally positioned companies have relatively little market and revenue share and from which little is sourced at the same time, divestment should be considered. This is particularly relevant if the company's business activities in one of these countries pose reputational risks. If there are dependencies on the company's procurement side to decoupling countries and regions, then alternatives must be created in the short term.
Diversification of sources of supply is required at an accelerated pace
A good example of a missed opportunity to diversify supply sources on a grand political scale is energy procurement in Germany. For decades, Germany lived very well and cost-efficiently on Russian pipeline gas. As an energy-intensive industry, the economy as a whole and consumers individually have benefited enormously from this. Our prosperity is partly the result of this cheap energy supply. However, country-specific dependencies on Russia have continuously increased by far-reaching political decisions across party lines over decades. On the one hand, this was a missed opportunity to structure sufficient procurement capacities from alternative supplier countries. This particularly applies to the purchase of liquefied natural gas (LNG) and the development of corresponding infrastructures. On the other hand, the decision to withdraw from nuclear energy, hard coal and lignite, as well as the political decision not to produce shale gas in this country, have increased our dependence on Russia. Many measures taken by political actors are now aimed at correcting these self-inflicted strategic mistakes as quickly as possible. If only the sales market in an unbundling country is of high importance for a company and no production site exists yet, targeted investments in the localization of activities may have to be made. In this context, local value creation must increasingly be rebuilt. This build-up is necessary to be able to defend or expand markets. A country that is unbundling will also always try to engage in import substitution, which can be to the detriment of export-oriented companies that do not produce locally: no value creation in the country, no access to the market.
If individual regions and states are striving for economic sovereignty, for example in relation to critical infrastructures, and if both the procurement market and the sales market are of great importance to a company, it may be necessary to strengthen its own existing value chain regionally. This will be "local for local", meaning that raw materials and primary products will be procured locally in the decoupled country itself, which are necessary for local production and satisfying country-specific market needs. This creates a high degree of autonomy and opens up several strategic alternatives for action. In the case of a far-reaching politically intended decoupling of a country from world trade, the local unit can continue to operate and function as a subsidiary, or it can be sold off as a whole. The higher the local value-added depth in the case of a divestment, the higher sales prices can usually be realized for the subsidiary upon disposal. In addition to the consideration of goods, the financial dimension is also important. As a matter of principle, it must be ensured that generated revenues and profits can be transferred to the respective country of the parent company. If this is not the case and there are dividend transfer restrictions, investments in a decoupling country are to be classified as high-risk.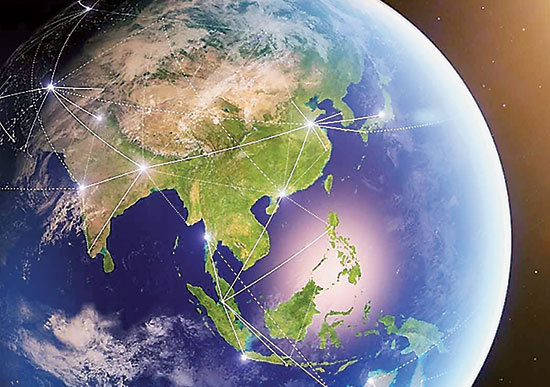 Decoupling could throw fuel on the geopolitical fire
When considering the opportunities and risks of decoupling, it is clear that exclusion, sanctions and isolation, not to mention tearing down bridges, have never once in world history generated added value. From a scientific point of view and in the context of intended changes in the behavior of political actors, sanctions only have a limited effect, and in the case of autocracies they are ineffective for many reasons. They often cement the existing political systems of rule in the sanctioned country and do not bring about "regime change", i.e., change in the power structures.
However, it is indisputable that widely implemented multinational sanctions, legitimized for example by a UN mandate, are much more effective than national or regional solo efforts. In the absence of such global legitimacy, the economies of sanctioning states and regions lose market share to those of non-sanctioning states. This effect can be observed worldwide, especially when implementing and observing the effectiveness of Russian sanctions. The sanctioning states may end up harming themselves more than politically foreseen. Politicians, together with their citizens, must weigh up the high price a country is willing to pay for the release of sanctions against other states. For this, citizens need a high degree of transparency, not only with regard to ethical and moral considerations and the security and defense policy dimension, but also with regard to the effects on their own jobs and wallets.
Decoupling is an illusion and circumvents reality
In conclusion, it can be said: In contrast to "decoupling" in all its forms, economic dependencies and interdependencies, especially in geopolitical conflict situations, increase the willingness to compromise and potentially contribute to de-escalation. Decoupling is an illusion and circumvents reality - believing that the world can be organized in a bipolar way or divided into "good" and "evil", with value-based Western-style democracies on one side and states with divergent political systems on the other. The more realistic system is one where the diverse political systems on our planet responsibly coexist. Multilateralism instead of "decoupling" is the order of the day.
Or in other words:
Once the world economy has been decoupled as far as possible along the power and military blocs, the waging of wars becomes easier. And that too is anything but desirable!
(articol aparut in revista Agenda Constructiilor, editia Septembrie 2022)